Waking up in the morning is as tiresome as making a breakfast during that time. Even if the breakfast is made with iddales, vada or dosa there is still sleepy mood all up to the afternoon peak. So why is it so, doesn't the breakfast provides sufficient energy till afternoon or is it something else. Less energy often calls for a less active and moody work. I often use to take cereals like Kellogg's for morning breakfast that keeps me on till afternoon lunch, but still it doesn't beat the fatigues often. Though vadas, dosas have their own oily crunch that rolls off well with milk tea or chocolate milkshakes or fruit juice but they all lack the score of keeping one active all day. So what could be the best alternative for just a fine day ? Recently while surfing the internet I found a contest of making recipes. It was of Quaker Oats, which was my forgotten morning breakfast that I took only once in one of the day after my graduations.
 Well, the contest prize is surprisingly 50 lakhs Indian Rupees as first prize along with other home appliances as secondary prizes. This encouraged we to try this contest. I bought the Quaker Oats packet from big basket, the well known online grocery shopping site. In Bangalore big basket delivers orders within one day or two so there is no need of going to shopping malls for groceries. I bought fruits along with other items for making recipes and it doesn't cost me much and there was already enough items for entire week.
 Firstly I tried to make a fruit salad with oats that had oats boiled well in milk and added with fruits like apple, mango and some almond and khismish pieces. Lastly after decorating the contents in a bowl I poured some chocolate syrup too. Believe me all of it tasted early good. And that day till night I had pretty good feeling and didn't suffered any fatigues during working hours. I proved me that oats helps to fight cholesterol and indigestion problems as it was already written on their packing covers.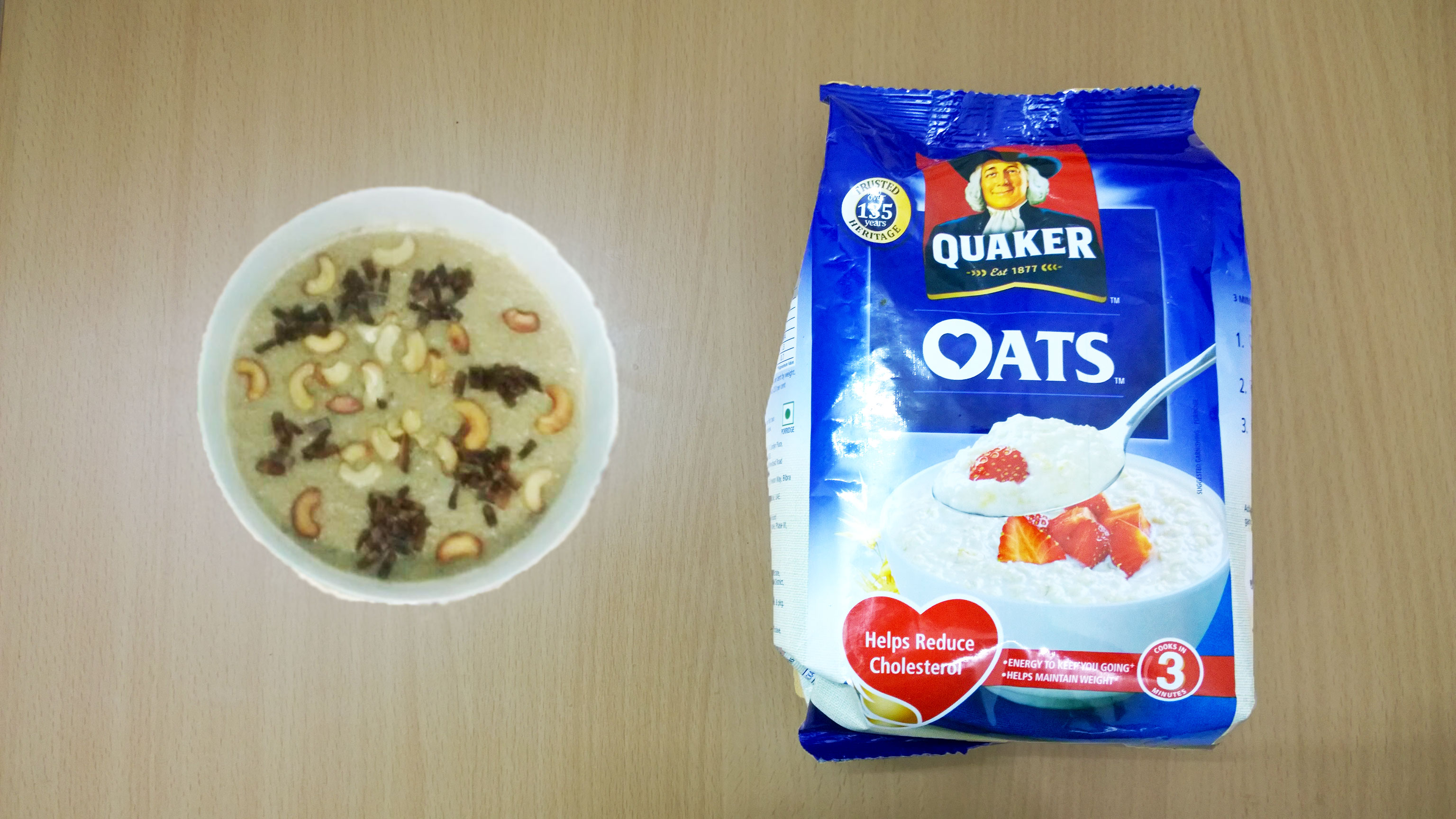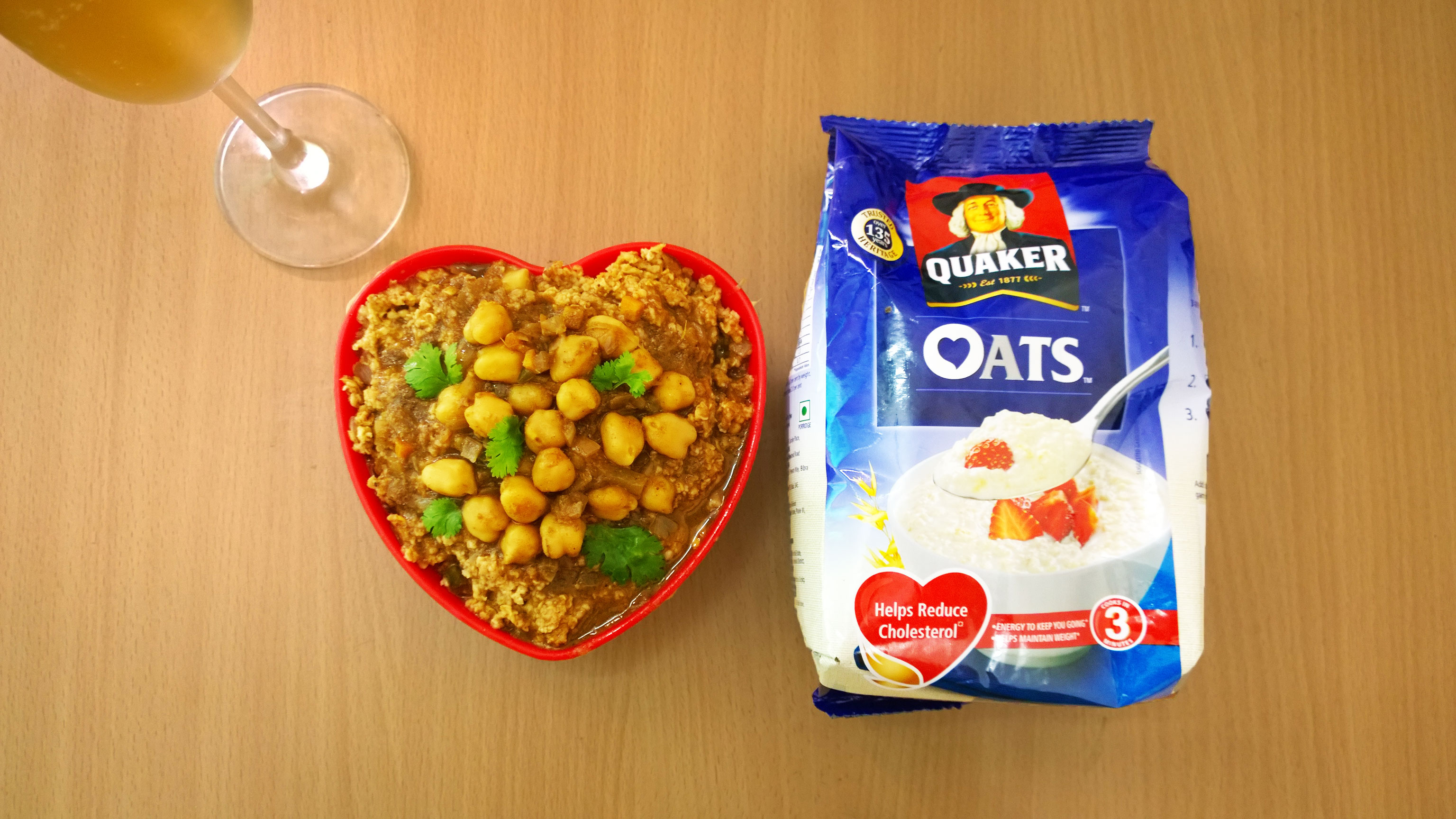 I went to post about my made recipe but as per contest terms and conditions there has to a recipe made according to the hosting chef's instructions. And that weeks contest was recipe from the traditional cusines several ideas struck my mind like karnatak's bisi bele bath, kerala payasum, punjabi chole. Out of these punjabi chole was the easiest one so I prepared it and posted it on there contest website. Oats chole was really delicious and it was a great afternoon meal for me. The contest went on, several people posted about their recipes and there was a tough challenge for the prize money. But the good thing was that oats really removed my bad moods, fatigues and stressed mindset during work hours and it was a great improvement in my health.
 If you are also suffering from aliments like stress, bad moods, improper digestions or high blood pressure try the Quaker Oats and you could find improvements in your health too. Also Saffola Oats are also good for high blood pressures, stress and tensions. Try these products with vegetables, fruits and other healthy eatables and they could be a great boosters for your daily work routines with enhanced improvements on blood circulations and mental health.
 My entry in the contest is still on if want to vote for my recipes please do it by this Facebook post. Share it with your friends and relatives and help me get as many votes as possible. When direct to Facebook post don't click on the image but on the title 'Bring your tastiest bowl', search for my recipe and vote for it. Thanks for coming by, I hope to meet you around with some blog post very soon.
Latest posts by Sinto Joseph
(see all)