Smartwatch is a new trend coming to market in few months. Many companies like Apple, Samsung, Motorola, Asus, HTC and even microsoft are expecting to release their smartwatch probably in next few months itself.
Apple's iWatch is expected to release in a media event coming this September 9. Samsung already released its wearable watches called Samsung Gear S. Though arriving late in the market, the Apple iWatch is expected to beat all android versions but it will priced high too. Microsoft is also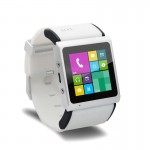 designing its smartwatch which is believed to work with all leading OS platforms. While HTC, LG and Asus are also set to release their smartwatches pretty soon.
    So next few months there will be close battle between all companies and its pretty difficult to decide at this moment which smartwatch will be loved by most customers. Sometimes the price says it all and sometimes it brings the odds. Device battery life, ease of access, features and of course the price are the key indications of which is best suited for one's own lifestyle. Anyway with the extravaganza of smart watches in coming months all will be buying and gifting smart watches all around the world. Below are some of the good smartwatches and their features which would likely help you to choose the best smartwatch in the market.
Apple iWatch
   Apple iWatch is coming this september with the rumour that is will be showcased as a fitness-focused device along with iPhone 6. Apple iWatch will be available in 1.3 and 1.5 inch flexible amoled display. Sapphire lens cover, biometric recognition and an NFC chip are some expected features of Apple iWatch. It is also expected that sensors could check the person's hydration level, blood pressure and sweat and along with Apple HealthKit it would be capable for analysing on calories burned, heart rate and much more. Besides apple is further testing on new and  innovative ways so that this device can be charged with inductive, solar and motion charging so that users can get more battery life for this device. The expected market price for Apple iWatch is around $1000.
Moto 360
   Google's Moto 360 failed to arrive in the market late this summer and finally rumors sounds that it will be launching Moto 360 in the coming october. Moto 360 will characterised with a circular LCD display of 1,5 inch and 320 x 290 resolution featuring a heart rate monitor and a pedometer and would be powered by Texas Instrument processor with 512 MB RAM. This smartwatch will have expected market price of nearly $250 (15,000 ₹).
Samsung Gear S
   Samsung has already released its smartwatch Samsung Gear S earlier this week. Coming curved super AMOLED 2 inch display and runs on Samsung's own Tizen instead of android, device is completely dust resistant and waterproof. Featured with Gear Apps like Voice S, Find my device and Power Saving mode, is also loaded with improved multi-sensors, Bluetooth, in-built GPS and 3-G as well as WiFi connectivity support. It also offers turn by turn pedestrian navigation from popular mapping service HERE, advanced reading technology from Spritz and a social media integration too. Its market price is expected to be similar to Moto 360 that is around $ 250 or more.
LG G Watch R
   The G Watch R is also called Moto rival which LG has created adding many new design features that stands competing with the Google's Moto 360. This smartwatch features a 1.3 inch plastic and first of its kind to have OLED (P-OLED) display with 320 x 320 resolution 1.2GHz Qualcomm Snapdragon 400 processor, 512MB of RAM, 4GB of storage, 410 mAh battery and Android Wear OS under the hood. Watch is IP67 certified for dust and water resistance. Watch has stainless steel casing and elegant curves to add to its look. Price is expected to be similar around $250 and $390 ranges.
Microsoft Smartwatch
   All microsoft lovers can expect to get a smartwatch too soon or probably by this october itself. There are less informations about the wearable design concept but it's expected that microsoft is willing to make a square face instead of circular one and will provide cortana assistant, notification to messages and many health monitoring sensors to check heart rate, blood glucose level etc. It will be also loaded with plenty of apps customized for the small screen. The watch is designed to be readily compatible with cross platform OS like Android and IOS which is an significant feature for this smartwatch. The price of microsoft smartwatch will be around $390.
Asus Smartwatch
   Asus it also set to release its smartwatch wearable pretty soon and will be called Zenwatch. This watch will be featuring curved AMOLED display and will pricing must lower than other smartwatches. The expected market price of Zenwatch will between $99 and $149 that is around 5,900 & 9000 ₹.
HTC Smartwatch
   HTC is also working on its smartwatch design but very little has been revealed from this mobile manufacturing giant. But all HTC lover could soon find their smartwatch sets before the christmas bells. The device will run on android wear os for smartwatches and it will called HTC CWZ. Price will be as much as samsung smartwatches that is around $ 250 or more.
   So smartwatches will be new fashion trend from the technology. Its pretty staggering to decide which smartwatch to buy or gift. But from my point of view one should opt for the smartwatch from companies from whom you have been buying smartphones. Like Samsung smartphone users should buy samsung gear and apple smartphone user the Apple iWatch etc. But such decision are on users and price is also a important factor in it. But people who are health cautious should always look for smartwatch that provide detailed notifications about their health and fitness. So wait for the smartwatch rain in the market by this october and grab your smartwatch that suites your style.
 Tell us more if you know or if you find these informations useful and interesting please leave us a comment below and follow us on google+ or other social networking sites to get notifications about our next blog posts.
Latest posts by Sinto Joseph
(see all)