A new definition to gaming interface, NVIDIA SHIELD  tablet will change the way you play games. Powered by world's fastest processor and silky smooth graphic, audio and video NVIDIA shield brings all the gaming fun in an unbeatable way.  It gives you the perfect mix of performance, portability and power.
NVIDIA SHIELD is a hand held console designed and built by NVIDIA Corporation.  This tablet released on 31 July 2014 is a competitive tablet in the market for gamers and game artists. With Android Jelly Bean and 8 inch, full HD 1080p display this device comes with responsive advance stylus 2 and can be paired to SHIELD wireless controller. Another device from NVIDIA called Shield Portable comes with integrated controller which is similar in shape to an Xbox 360 controller and similar in design to a Dual Shock controller with two analog joysticks, D-pad and other buttons.
As stated earlier NVIDIA SHIELD has an advanced stylus and has an ability to pair with SHIELD wireless controller that provides immense gaming pleasure all with the comfort of portability.  The front facing stereo speaker and dual bass reflex port make all your viewing experience crisp and clear. Yes this tablet is flexible and gives a variety of standing positions so that you can adjust it according to your choice anytime and become hands free.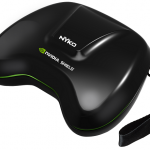 Not just gaming alone but artist designing the next game or fan arts can tap into integrated resources of GPU-accelerated NVIDIA DirectStylus™ 2, integrated handwriting recognition, NVIDIA Dabbler app and much more.
    NVIDIA shield allows different modes of gaming too. Connect to wireless controller to start gaming on the tablet, pc powdered with GeForce GTX can stream games on shield tablet using the NVIDIA GameStream technology. Switch to big screen by connecting NVIDIA shield to TV, you just need to switch on the console mode. Using the NVIDIA ShadowPlay, record and share your greatest gaming moments to Twitch which is an in-built app in NVIDIA SHIELD tablet.
    Access unlimited apps on the tablet using Google Play and with inbuilt NVIDIA Shield Hub you get almost more than 200 gaming titles specially optimized for SHIELD. This is an unlimited entertainment package all again with portability and performance.
    NVIDIA Shield has 4G LTE ready connectivity and runs on NVIDIA® Tegra® K1 mobile processor, which is built on the same NVIDIA Kepler™ architecture which world's most extreme gaming PCs are built on. Custom engineered thermal system keeps its performance in cool without comprising much on power. Some specifications of NVIDIA SHIELD tablet is as follows:
| | |
| --- | --- |
| Processor | NVIDIA® Tegra® K1 192 core Kepler GPU, 2.2 GHz ARM Cortex A15 CPU with 2GB RAM |
| Display | 8-inch 1920×1200 multi-touch Full HD display |
| Audio | Front facing stereo speakers, dual bass reflex port with built-in microphone |
| Storage | 32 GB (WiFi+4G LTE) / 16 GB (WiFi-only) |
If you are a gaming fan or a game artist, this device is a perfect companion for you. The only console graded tablet that gives your seamless gaming fun with performance and portability. The starting price of NVIDIA SHIELD 16GB WiFi is just $299 while 32 GB WiFi, LTE comes at $399. Find more about this product at SHIELD NVIDIA.
If you have used the NVIDIA SHIELD product then give your rating below and let us know your experience of using NVIDIA SHIELD  with your comments.
Latest posts by Sinto Joseph
(see all)